Solving Business Challenges
Central Conveyor demonstrates Corporate Citizenship by supporting our employee's philanthropic-initiatives.  Being socially responsible is a core value to our company culture.  "Helping Hands" is a life-style, whether it is a call-to-action for our next-door neighbor or man-kind around the world.  Corporate Citizenship extends beyond the confines of any single firm, it is a social concern that affects all generations.  Central Conveyor is doing our part to ensure a better, brighter world for everyone!
Food Drive
Central Conveyor's employees annually participate in our annual food drive to benefit the Promise Land Church Soup Kitchen.  We are thankful to work for a company that promotes community and helping neighbors, whether they are located next door or around the world.  
Central Community Charities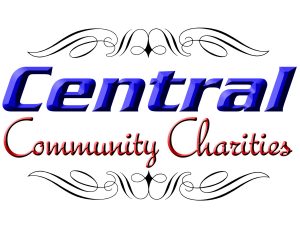 Our Mission
"To build on the giving tradition that defines the spirit of the Central Companies. We will represent and honor all of the Central employees in our acts of giving to those in need. We will work in our local communities, building goodwill through our ability to provide for others."
Central Conveyor's employees have the biggest hearts when it comes to charity.  Through Central Community Charities, employees of the company hold non-perishable food, clothing and toy drives as well as cash donations.  In 2018, contributions topped $12,000 to help the less fortunate in our community.
Some of the organizations that received support included: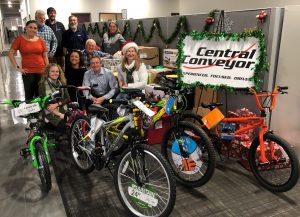 Lighthouse of Oakland County
Cancer Foundation Relay for Life
Piquette Square, housing and services for Veterans through Southwest Solutions
Promise Land Church – Soup Kitchen, Detroit
Northwest Organization for Animal Help (NOAH)
Through their generosity, employees directly helped 67 people have a better Christmas in 2018.  They also help countless others with food, financial support, and meeting needs, through their gifts and good work.
Sustainability
Awareness of global environmental concerns requires intentional behavior changes.  Central Conveyor is committed to leading the industry in minimizing the impact of our activities on the environment.  Our strategy includes: A) Minimize waste by evaluating operations and ensuring greatest efficiency, B) Minimize toxic emissions through the selection and use of its power requirements, C) Promote a recycling program internally and with customers/suppliers, D) Source a range of products that minimize impact to environment.    
Central Conveyor Company
52800 Pontiac Trail
Wixom, MI 48393
Phone - 248.446.0118
Fax - 248.446.1550
Email - info@centralconveyor.com