Solving Business Challenges
Equipment Sustainment Division (ESD)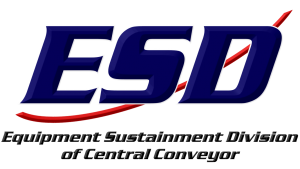 The Central Conveyor Company Equipment Sustainment Division (ESD) offers a wide variety of OEM, fabricated conveyor components, parts and services to help sustain your equipment and avoid costly downtime. Our dedicated specialists are available to help assess your needs and provide you with the best possible solution. ESD is dedicated to manage and follow your order from inquiry through delivery. ESD is staffed with experienced conveyor professionals that are familiar with all types of material handling equipment.


ESD Products & Services
Parts procurement for all conveyor components
Part identification to help diagnose your needs
Engineering services (electrical and mechanical)
Reverse engineering for custom parts
Conveyor system health assessments
Fabrication and machining of conveyor components
Fabrication of structural steel and platforms
Complete, Onsite Maintenance Services (Mechanical, Electrical, Pneumatic and Controls)
Upgrades, Renovations & Relocations
All forms of payment accepted, Credit Card, Purchase Order
For Quotations or Inquiries
Please contact ESD@centralconveyor.com
Example of ESD Assignments
A major OEM customer planned to redo a large portion of the systems in its assembly shop, but wanted to make certain the systems that remained in place would operate as effectively and have as long a life as the new components. ESD performed a health assessment of the conveyors that would remain in place and identified specific improvements that would need to be made to those conveyors.
A major OEM has provided ESD with a blanket order to provide maintenance personnel to all of its assembly plants throughout North America. This allows each plant manager to access maintenance teams as needed to keep their plant operating efficiently.
A plant was having difficulty getting effective pricing on some parts for some equipment that had been in its plant for an extended duration. ESD was able to locate the parts needed and get them to the plant so that they had them available to avoid downtime.
Central Conveyor Company
52800 Pontiac Trail
Wixom, MI 48393
Phone - 248.446.0118
Fax - 248.446.1550
Email - info@centralconveyor.com