Solving Business Challenges
Central Conveyor Company, a member of the Tsubaki Group, is a global leader in the automotive and industrial industries, specializing as an integrator of conveyors and material handling systems since 1993.
The company's portfolio includes expertise in mechanical engineering, project management, custom fabrication, system integration and plant maintenance services.
The company has facilities in Michigan, Alabama and Missouri and provides its services throughout the United States, Canada and Mexico.
In June 2018, Tsubaki acquired Central Conveyor and its subsidiaries through its wholly owned subsidiary, U.S. Tsubaki Holdings, Inc. ("USTH").  Tsubaki is a publicly traded global company that recently celebrated its 100th anniversary and has 40 manufacturing sites around the world with annual sales of over $2 Billion. 
U. S. Tsubaki Automotive was the winner of GM's Supplier of the Year Award in 2014 and Tsubaki has multiple conveyor fabrication facilities located in the U.S. as well as fabrication facilities in Europe, Japan and China. 
For more information about U. S. Tsubaki please visit www.ustsubaki.com.
Company Mission Statement
Our primary goal is without question, CUSTOMER SATISFACTION. This will be accomplished by providing unsurpassed service, a yeoman's work ethic and quality in all phases of a project. We will strive to provide engineering, fabrication and installations that exceed our competitor's and customer's highest standards. Timeliness will be paramount in effecting our commitments. We will endeavor to find resourceful solutions with regards to our customer's material handling and construction requirements.
Failure is not an option!
Safety Program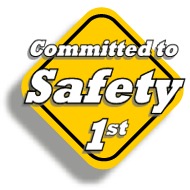 Central Conveyor has a strong commitment to safety and training.  The benefits of having an aggressive safety program have resulted in:
An increase to our production efficiency

Less lost time due to injuries

Better insurance rates
Our Safety Vision Statement:
"Through proactive behavior, we will endeavor to accomplish our goal of an injury-free organization."
Our Safety Mission Statement:
"Continually provide a safe working environment for employees and clients by embracing safety as the core value of our corporate culture."
Central Conveyor Company
52800 Pontiac Trail
Wixom, MI 48393
Phone - 248.446.0118
Fax - 248.446.1550
Email - info@centralconveyor.com