Solving Business Challenges
Central Conveyor was established in 1993 to design and build high quality customized material handling and conveyance systems for the Automotive industry.  Today, we are a turn-key Systems Integrator with a complete portfolio of industry solutions for Automotive, Parcel & Logistics, and Warehouse & Distribution markets.  We design, engineer, and implement right application, right fit automated systems to provide our Customers with a competitive industry advantage.  Central Conveyor's full-service solutions offer comprehensive storage and retrieval systems, including custom controls and integration services and electrical field wiring and support.
Central Conveyor is privately-owned and has more than 150 full-time employees with +50 Engineers & Project Managers.  Our business model is scalable for significant increases in new business to meet our customer's needs.  Strong processes and procedures allow Central Conveyor to support exponential growth year and year.  We are uniquely qualified to provide high-performance, innovative solutions with undisputed customer satisfaction through industry best practices and leading technology. We have implemented projects throughout the United States, Canada, Mexico and the United Kingdom.
Mission Statement
Our primary goal is without question, CUSTOMER SATISFACTION. This will be accomplished by providing unsurpassed service, a yeoman's work ethic and quality in all phases of a project. We will strive to provide engineering, fabrication and installations that exceed our competitor's and customer's highest standards. Timeliness will be paramount in effecting our commitments. We will endeavor to find resourceful solutions with regards to our customer's material handling and construction requirements.
Failure is not an option!
Safety Program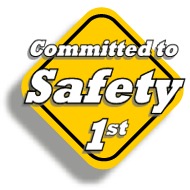 Central Conveyor has a strong commitment to safety and training.  The benefits of having an aggressive safety program have resulted in:
An increase to our production efficiency

Less lost time due to injuries

Better insurance rates
Central Conveyor Company
52800 Pontiac Trail
Wixom, MI 48393
Phone - 248.446.0118
Fax - 248.446.1550
Email - info@centralconveyor.com